Kráľová
Districts: Galanta, Šaľa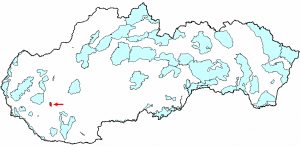 Altitude: 115 m – 121 m
Area: 12,06 km2
Description
Kráľová is a water reservoir built on the Váh River. It is lined with deciduous forests and fields. Smaller bodies of water that are partly remnants of the system of river arms are located nearby.
Area protection
IBA Kráľová was designated a Special Protection Area (SPA) on January 7, 2008.
Importance
The area is an important nesting ground of Night Heron (Nycticorax nycticorax) in the mixed colony with Grey Heron (Ardea cinerea). Water reservoir has a considerable importance especially during the migration of bird species related to water environment. Forest bird species use the relatively valuable forests around the reservoir for nesting.
Qualifying species
Species
Breeding population
Criterion

Pop.min.

Pop.max.

Night Heron - Nycticorax nycticorax

20

40

C6