Levočské vrchy
Districts: Kežmarok, Levoča, Prešov, Sabinov,Stará Ľubovňa
Altitude: 450 m – 1289 m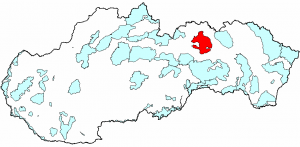 Area: 529,14 km2
Description
The territory is composed mainly of large flysch forested mountain. We can find there a mosaic of meadows and pastures that increases the representation of peripheral habitats. Major kind of forest is spruce with addition of fir. Especially on the eastern side we can find mixed and occasionally deciduous beech woods. The foothill area passes to the open agricultural and urban landscape.
Area protection
IBA Levočské vrchy was proposed a Special Protection Area (SPA) and is awaiting legislative acknowledgement.
Importance
The nature of area provides favorable conditions for nesting of several rare bird species. Levočské vrchy hills are among the five most important areas for Corncrake (Crex crex) and Golden Eagle (Aquila chrysaetos) in Slovakia.
Qualifying species
Species
Breeding population
Criterion
Pop.min.
Pop.max.
Golden Eagle - Aquila chrysaetos
7
7
C6
Corncrake - Crex crex
80
160
C6
Other important species
Black Stork (Ciconia nigra), Honey Buzzard (Pernis apivorus), Lesser Spotted Eagle (Aquila pomarina), Hazel Grouse (Tetrastes bonasia/Bonasa bonasia), Black Grouse (Lyrurus tetrix/Tetrao tetrix), Capercaille (Tetrao urogallus), Common Quail (Coturnix coturnix), Eagle Owl (Bubo bubo), Pygmy Owl (Glaucidium passerinum), Ural Owl (Strix uralensis), Tengmalm's Owl (Aegolius funereus), Common Kingfisher (Alcedo atthis), Grey-headed Woodpecker (Picus canus), Black Woodpecker (Dryocopus martius), Three-toed Woodpecker (Picoides tridactylus), Spotted Flycatcher (Muscicapa striata), Great Grey Shrike (Lanius excubitor)