Poiplie
Districts: Levice, Lučenec, Veľký Krtíš
Altitude: 125 m – 204 m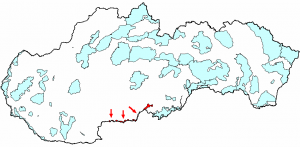 Area: 92,35 km2
Description
The site can be characterized as a preserved alluvial part of the Ipeľ River with riparian vegetation, wet and irregularly flooded meadows and wetlands. It is an important birding area that interlocks to the similar area in neighboring Hungary. In the area can be found intensively used agricultural lowland ecosystems. The landscape is a mixture of fields, orchards and vineyards with complement of xerothermic vegetation and communities on alluvial sands.
Area protection
IBA Poiplie was designated a Special Protection Area (SPA) on January 7, 2008.
Importance
The wetlands of Poiplie are important for nesting of waterfowl and bird species living near the water. It represents one of the five most important nesting sites of White Stork (Ciconia ciconia), Marsh Harrier (Circus aeruginosus), Little Bittern (Ixobrychus minutus), Spotted Crake (Porzana porzana) and Little Crake (Porzana parva). Widespread open agricultural landscape provides nesting potential for species of steppe habitats. Site is an important regional migrating corridor for waterfowl.
Qualifying species
Species
Breeding population
Criterion
Pop.min.
Pop.max.
White Stork - Ciconia ciconia
50
60
C6
Marsh Harrier - Circus aeruginosus
20
30
C6
Spotted Crake - Porzana porzana
15
25
C6
Little Crake - Porzana parva
10
20
C6
Common Kingfisher - Alcedo atthis
30
60
C6
Syrian Woodpecker - Dendrocopos syriacus
30
70
C6
Lesser Grey Shrike - Lanius minor
20
30
C6
Little Bittern – Ixobrychus minutus
6
15
C6
Other important species
Common Quail (Coturnix coturnix), Scops Owl (Otus scops), Bee-eater (Merops apiaster), Crested Lark (Galerida cristata), Sand Martin (Riparia riparia), Common Stonechat (Saxicola torquata), Barred Warbler (Sylvia nisoria)