Poľana
Districts: Banská Bystrica, Brezno, Detva, Zvolen
Altitude: 355 m – 1458 m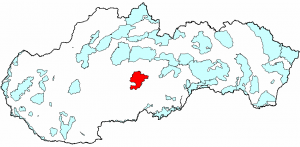 Area: 376,69 km2
Description
The territory is one of the best preserved and highest prehistoric volcanoes (calderas) of Europe. The prevailing part is covered with primeval forests that are represented by almost every forest vegetation level from oak forest level up to spruce-rowan forest level. The forests are diversified by mountain meadows and pastures. There can be found one of the best preserved areas with low density settlements on the southern slopes of Poľana. For these settlements is typical traditional farming and large diversity of microhabitats for animal species.
Area protection
IBA Poľana was designated a Special Protection Area (SPA) on January 7, 2008.
Other protected areas in the region of IBA Poľana: Protected Landscape Area Poľana
Importance
The site is important for nesting of bird species of forests, meadows and mosaic landscape with dispersed tree vegetation. On the slopes of Poľana nests one of the most preserved population of Lesser Grey Shrike (Lanius minor) in the world, the most important national population of Woodlark (Lullula arborea) and the most southern population of Capercaillie (Tetrao urogallus) in Slovakia.
Qualifying species
Species
Breeding population
Criterion
Pop.min.
Pop.max.
Capercaillie - Tetrao urogallus
25
35
C6
Woodlark - Lullula arborea
130
270
C6
Lesser Grey Shrike - Lanius minor
90
150
C6
Other important species
Honey Buzzard (Pernis apivorus), Hazel Grouse (Tetrastes bonasia/Bonasa bonasia), Common Quail (Coturnix coturnix), Corncrake (Crex crex), Wryneck (Jynx torquilla), Grey-headed Woodpecker (Picus canus), Black Woodpecker (Dryocopus martius), Syrian Woodpecker (Dendrocopos syriacus), White-backed Woodpecker (Dendrocopos leucotos), Three-toed Woodpecker (Picoides tridactylus), Common Stonechat (Saxicola torquata), Red-breasted Flycatcher (Ficedula parva), Collared Flycatcher (Ficedula albicollis)