Sĺňava
Districts: Piešťany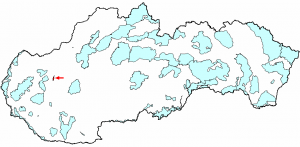 Altitude: 149 m – 166 m
Area: 6,91 km2
Description
It is a flatland territory in the valley of the Váh River lying in the foothills of Považský Inovec mountain range. It consists of water reservoir Sĺňava and its surrounding area. There are almost only agricultural habitats and transitional forest habitats in a lesser extent.
Area protection
IBA Sĺňava was designated a Special Protection Area (SPA) on January 7, 2008.
Other protected areas in the region of IBA Sĺňava: Protected Site Sĺňava
Importance
The site is important for nesting of waterfowl. It belongs to areas with the largest concentration of Gulls in Slovakia. It is also important wintering site and migration corridor for many bird species in spring and autumn period.
Qualifying species
Species
Breeding population
Criterion

Pop.min.

Pop.max.

Mediterranean Gull - Larus melanocephalus

1

4

C6

Common Tern - Sterna hirundo

55

65

C6
Other important species
Common Gull (Larus canus)