Sysľovské polia
Districts: Bratislava V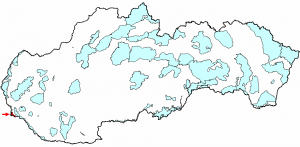 Altitude: 130 m – 137 m
Area: 19,33 km2
Description
The area is a part of lowland Podunajská nížina. The site consists of agricultural land and thin lines of windbreak vegetation in the alluvium of the Danube River. Area is located on the borders of Slovakia, Austria and Hungary.
Area protection
IBA Sysľovské polia was designated a Special Protection Area (SPA) on April 12, 2006.
Importance
The fields provide important winter roosting and feeding area for 10% of the Central European population of Great Bustard (Otis tarda) that represents the whole Slovak population. This area is the last nesting site for this critically endangered species in Slovakia. Moreover, it was designated as the most important nesting site for the Red-footed Falcon (Falco vespertinus). The site provides both regular winter roosting and feeding areas for geese and some raptor species.
Qualifying species
Species
Breeding population
Nonbreed. season (ind.)
Criterion
Pop.min.
Pop.max.
Migrating
Wintering
Red-footed Falcon - Falco vespertinus
5
20
C6
Great Bustard - Otis tarda
3
5
C2,C6
Bean Goose – Anser fabalis
White-fronted Goose – Anser albifrons
5 000
C3