Veľkoblahovské rybníky
Districts: Dunajská Streda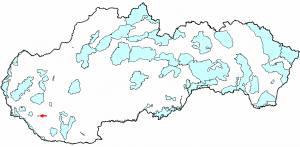 Altitude: 115 m
Area: 0,93 km2
Description
The system of intensively used fishponds is located in central part of Žitný ostrov. There are preserved fragments of wet meadows on the west side of fishponds. There can be found groups of low growing willows and poplar alleys. The rest of the surroundings consist of agricultural land.
Area protection
IBA Veľkoblahovské rybníky was designated a Special Protection Area (SPA) on April 16, 2010.
Importance
This area is an important breeding site of water bird species. It belongs to the five most important sites for nesting of Little Bittern (Ixobrychus minutus). It is also important spot for migrating birds.
Qualifying species
Species
Breeding population
Criterion
Pop.min.
Pop.max.
Little Bittern – Ixobrychus minutus
4
11
C6
Other important species
Gadwall (Anas strepera), Red-crested Pochard (Netta rufina)