Žitavský luh
Districts: Nitra, Nové Zámky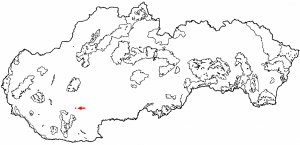 Area: 1,55 km2
Description
It is a small alluvial site in the territory of the remnants of meandering water course.
Area protection
Žitavský luh was designated a Special Protection Area (SPA) on January 7, 2008.
Other protected areas in the region of IBA Žitavský luh: Nature Reserve Žitavský luh
Importance
It is a breeding site of Spotted Crake (Porzana porzana), Garganey (Anas querquedula) and Marsh Harrier (Circus aeruginosus). It is also important as a suitable site for migrating water bird species.
Other important species
Common Kingfisher (Alcedo atthis), Common Quail (Coturnix coturnix), Black-tailed Godwit (Limosa limosa), Little Bittern (Ixobrychus minutus), Little Crake (Porzana parva), Barred Warbler (Sylvia nisoria), Common Stonechat (Saxicola torquata), Turtle Dove (Streptopelia turtur), Red-backed Shrike (Lanius collurio), Common Skylark (Alauda arvensis)