Chočské vrchy
Districts: Dolný Kubín, Liptovský Mikuláš, Ružomberok, Tvrdošín
Altitude: 449 m – 1608 m
Area: 204,35 km2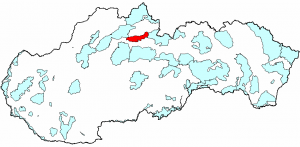 Description
It is a limestone mountainous territory, sometimes with very uneven relief with cliffs, canyons and various karst formations. Forest communities are created of spruce, fir-beech woods and beech woods to a lesser extent. On the edge of their territory in deforested parts are hilly meadows, pastures, fields and scattered urban habitats.
Area protection
IBA Chočské vrchy was designated a Special Protection Area (SPA) on Febrauary 1, 2011.
Importance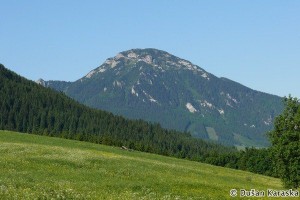 Thanks to a varied range of habitats, the unavailability and of the preservation of ecosystems is the area a refuge for many species of birds of rocky and forest habitats. Characteristic nesting species are raptors, owls and forest fowl. Foothill grasslands provide shelter to other species and serve as hunting territories for birds of prey.
Qualifying species
Species
Breeding population
Criterion
Pop.min.
Pop.max.
Peregrine Falcon - Falco peregrinus
2
5
C6
Other important species
Golden Eagle (Aquila chrysaetos), Hazel Grouse (Tetrastes bonasia/Bonasa bonasia), Black Grouse (Lyrurus tetrix/Tetrao tetrix), Capercaillie (Tetrao urogallus), Corncrake (Crex crex), Eagle Owl (Bubo bubo), Pygmy Owl (Glaucidium passerinum), Tengmalm's Owl (Aegolius funereus), Common Kingfisher (Alcedo atthis), Grey-headed Woodpecker (Picus canus), Three-toed Woodpecker (Picoides tridactylus), Great Grey Shrike (Lanius excubitor)