Pusté Úľany – Zeleneč
Districts: Galanta, Senec, Trnava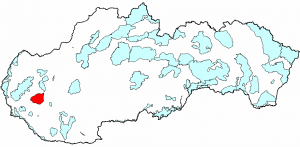 Altitude: 120 m – 156 m
Area: 212,40 km2
Description
The territory with character of flatland passing into the slight heights lies on the boundaries of Podunajská rovina and Trnavská pahorkatina with predominant agricultural biotopes. Forest and water habitats are very scarce.
Area protection
IBA Pusté Úľany – Zeleneč was designated a Special Protection Area (SPA) Úľanská mokraď on October 24, 2008.
Importance
The site is important for nesting of birds of prey that are bounded to an open agricultural landscape and for nesting of aquatic bird species. The area represents important migration corridor for bird species in spring and autumn period.
Qualifying species
Species
Breeding population
Criterion

Pop.min.

Pop.max.

Black Kite - Milvus migrans

1

3

C6

Marsh Harrier - Circus aeruginosus

16

34

C6

Hen Harrier - Circus pygargus

1

5

C6

Red-footed Falcon - Falco vespertinus

3

10

C6
Other important species
Little Crake (Ixobrychus minutus), Saker Falcon (Falco cherrug), Common Quail (Coturnix coturnix), Black-tailed Godwit (Limosa limosa), Crested Lark (Galerida cristata)