Tribeč
Districts: Nitra, Partizánske, Topoľčany, Zlaté Moravce
Altitude: 171 m – 828 m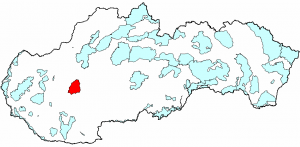 Area: 245,40 km2
Description
It is a hilly, mostly forested area on the limestone and dolomite subsoil. Beech woods prevail in the central area. Oak forests can be found in the lower parts. Secondary spruce forests are dispersed in the whole area. The foothill areas consist of agricultural land, meadows, orchards and vineyards.
Area protection
IBA Tribeč was designated a Special Protection Area (SPA) on January 7, 2008.
Other protected areas in the region of IBA Tribeč: Protected Landscape Area Ponitrie
Importance
The area provides suitable nesting site for Eastern Imperial Eagle (Aquila heliaca), Barred Warbler (Sylvia nisoria) and other forest bird species, mostly those that are nesting in cavities.
Qualifying species
Species
Breeding population
Criterion

Pop.min.

Pop.max.

Eastern Imperial Eagle - Aquila heliaca

4

4

C1

Barred Warbler - Sylvia nisoria

200

400

C6
Other important species
Honey Buzzard (Pernis apivorus), Common Quail (Coturnix coturnix), Turtle Dove (Streptopelia turtur), Eagle Owl (Bubo bubo), European Nightjar (Caprimulgus europaeus), Wryneck (Jynx torquilla), Middle Spotted Woodpecker (Dendrocopos medius), Common Redstart (Phoenicurus phoenicurus), Spotted Flycatcher (Muscicapa striata), Collared Flycatcher (Ficedula albicollis)