Friday – Sunday, October 5 – 7, 2012
During the first October weekend our travel agency organized another trip to the Hungarian Hortobágy National Park. An interesting mixture of birdwatching and exploring of local culture was waiting for us.
Our main aim was to observe the autumn migration of Common Cranes (Grus grus), for which is the area of national park the most important stopover on their Central European flyway. Alongside, we wanted to to explore the vast puszta country, local traditions and famous Hungarian cuisine.

We set off on our more than 400 km long journey on Friday early morning from Bratislava. The route led trough Zvolen – Lučenec – Eger. Our final destination was village Hortobágy, right in the heart of the national park. Sunny weather promised a pleasant weekend in puszta. Our program started with the visit of Hortobágy village, where we had the opportunity to visit the National Park Information Center and to admire the famous nine-arch bridge famous Hortobágy csárda or rehabilitation center for injured birds. Afterwards we mowed to place in puszta near the village, where we observed our first hundreds of cranes, feeding on fields. Some of them were only 200 meters away, others more numerous flocks was around 500 – 700 meters away. That did not bother us at all since we had enough scopes and binoculars. As the Sun set we saw cranes flying to their roosting places. After the dinner we gave participants a short lecture about puszta and Hortobágy National Park.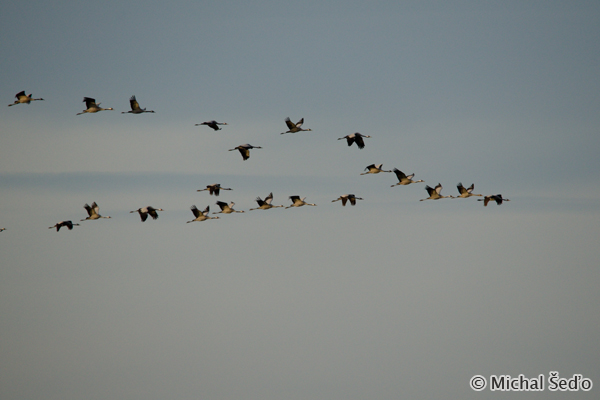 On Saturday morning before breakfast a few of us went for a walk, during which there was a possibility to observe flocks of cranes and Greylag Geese (Anser anser), flying to puszta for feeding. We were equally pleased by two flying White-tailed Eagles (Haliaeetus albicilla). After breakfast we mowed by bus to Halastó – system of large artificial fishponds. There we were shown how local experts catch and ring song birds on their migration. During our presence several species of birds were caught: Blackcap (Sylvia atricapilla), Reed Bunting (Emberiza schoeniclus), Bearded Tit (Panurus biarmicus), Blue Tit (Parus/Cyanistes caeruleus) or Chaffinch (Fringilla coelebs). It was very nice experience to see these birds so close, especially for the youngest participants of our trip. Worthy of remark is definitely a beautiful sighting of Grass Snake (Natrix natrix) and more than thousand Stock Doves (Columba oenas) flying over our heads in dense flock.
Afterwards we went for a pleasant walk in the typical puszta with roaming donkeys and Hungarian Grey Cattle. Than we had lunch ina a typical Hungarian puszta csárda where we tasted local specialities such as fish soup halászlé, Horotbágy pancake filled with meat or a delicious dessert Somloi galuska. Our lunch at open terrace was liven up by one Imeperial Eagle, observed right from the table by one of participants.
After the lunch we returned to fishponds Halastó, where we took local narrow gauge railway to the northern part of them. During our ride we saw Kingfisher (Alcedo atthis), Marsh Harrier (Circus aeruginosus) and other species of birds. Part of participants went for approximately 4 km long walk around one of the ponds. There they observed flying Night Heron (Nycticorax nycticorax), Pygmy Cormorants (Phalacrocorax/Microcarbo pygmeus), grebes and several species of dabbling duck. The rest of participants observed birds in small groups from numerous hides and platforms nearby the biggest fishpond Kondás. Bearded Tits (Panurus biarmicus) and Water Rails (Rallus aquaticus) could be heard in the reeds around fishponds. We observed many species of waders and other species of birds: Curlew (Numenius arquata), Spotted Redshank (Tringa erythropus), Black-tailed Godwitt (Limosa limosa), Dunlin (Calidris alpina), Little Stint (Calidris minuta), Common Snipe (Gallinago gallinago); Great Egret (Egretta alba), Grey Heron (Ardea cinerea), Spoonbill (Platalea leucorodia; one ringed, which we managed to read), as well as vast flocks of feeding and resting dabbling ducks (6 species of genus Anas), geese and cranes. After 5 pm we joined group of Hungarian tourists and listned to an interesting speech from National Park expert while birdwatching. He showed uz flying flock of 10 very rare Lesser White-fronted Goose (Anser erythropus), which belong to critically endangered species in Europe. The more darker got the more audible was the typical voice of cranes, which flew to their roosting place at fishpond Kondás. In our estimate, we saw more than 20 000 Common Cranes, several thousands of geese, ducks and gulls in less than one hour. We were fascinated ones more by these enormous numbers. After the sunset we returned back to our bus and mowed to our accommodation. After the dinner we watched two documentary movies filmy about traditions of Hortobágy puszta. Small group of us late in the evening registered flying and calling Long-eared Owl (Asio otus) and Tree Frog (Hyla arborea) close to the dinning room terrace.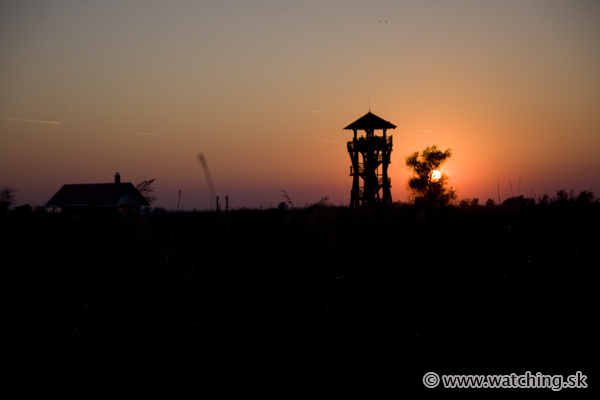 Our Sunday program started again with walk before breakfast. We had the opportunity to watch flying flocks of cranes and geese again. On the fields Rooks (Corvus frugilegus) and Starling (Sturnus vulgaris) were gathering. In ruderal vegetation we spotted also Crested Lark (Galerida cristata). After the breakfast we shortly visited site Szálkahalom, with acacia grove with rook colony. Again we had the opportunity to watch cranes feeding on fields, as well as female Marsh Harrier flying over fields. We moved to Pusztai Állat Park – local small ZOO. We could see mangalitsa pigs, racka sheep, water buffalo or white donkeys from near. We planned our visit so we can attend annual auction of Hungarian longhorned grey cattle. Thanks to this we could admire proud herdsmen with their cattle. After this, journey to Slovakia was ahead of us. We made one last stop near Tisza-tó lake near Poroszló, where we observed Ferruginous Duck (Aythya nyroca), Great Crested Grebe (Podiceps cristatus) and Moorhen (Gallinula chloropus). The 85. bird species observed in Hungary was Little Owl (Athene noctua), sitting near a chimney on a house in village Dormánd which we saw from bus on our way back home.
The weekend spent in Hortobágy national Park brought us outstanding ornithological, culinary and cultural experiences. For some of us, the highlight was Saturday evening at fishponds, for others the visit of csárda or the bull fair.
During this weekend we recorded 86 species of birds (39 species on Friday, 77 on Saturday, 41 on Sunday), what is a marked increase in comparison with previous year. It was surely thanks to beautiful sunny weather as well as experienced birdwatchers among trip participants.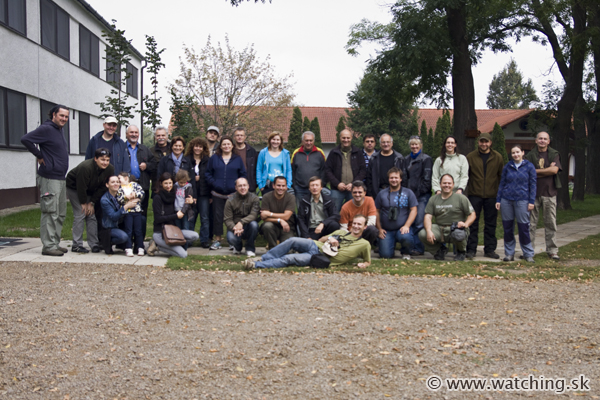 We would like to express our thanks to SOS/Birdlife Slovensko, company Swarowski for lending of optics (http://www.swarovskioptik.cz/cs/uvodni-stranka), stuff of Hortobágy NP, our driver Jozef and last but not least to Mr. Mihály Boda.
List of observed species:
Common Pheasant (Phasianus colchicus)
Greylag Goose (Anser anser)
White-fronted Goose (Anser albifrons)
Lesser White-fronted Goose (Anser erythropus)
Mute Swan (Cygnus olor)
Gadwall (Anas strepera)
Wigeon (Anas penelope)
Mallard (Anas platyrhynchos)
Northern Shoveler (Anas clypeata / Spatula clypeata)
Pintail (Anas acuta)
Teal (Anas crecca)
Red-crested Pochard (Netta rufina)
Pochard (Aythya ferina)
Ferruginous Duck (Aythya nyroca)
Little Grebe (Tachybaptus ruficollis / Podiceps ruficollis)
Great Crested Grebe (Podiceps cristatus)
White Stork (Ciconia ciconia)
Spoonbill (Platalea leucorodia)
Night Heron (Nycticorax nycticorax)
Grey Heron (Ardea cinerea)
Great Egret (Ardea alba / Egretta alba)
Pygmy Cormorant (Microcarbo pygmeus / Phalacrocorax pygmeus)
Great Cormorant (Phalacrocorax carbo)
White-tailed Eagle (Haliaeetus albicilla)
Marsh Harrier (Circus aeruginosus)
Common Buzzard (Buteo buteo)
Eastern Imperial Eagle (Aquila heliaca)
Common Kestrel (Falco tinnunculus)
Peregrine Falcon (Falco peregrinus)
Water Rail (Rallus aquaticus)
Moorhen (Gallinula chloropus)
Coot (Fulica atra)
Common Crane (Grus grus)
Lapwing (Vanellus vanellus)
Common Snipe (Gallinago gallinago)
Black-tailed Godwit (Limosa limosa)
Curlew (Numenius arquata)
Spotted Redshank (Tringa erythropus)
Little Stint (Calidris minuta)
Dunlin (Calidris alpina)
Ruff (Philomachus pugnax)
Black-headed Gull (Chroicocephalus ridibundus / Larus ridibundus)
Common Gull (Larus canus)
large gull (Larus cachinnans/michahellis)
Whiskered Tern (Chlidonias hybrida)
Feral Pigeon (Columba livia)
Stock Dove (Columba oenas)
Wood Pigeon (Columba palumbus)
Collared Dove (Streptopelia decaocto)
Common Cuckoo (Cuculus canorus)
Little Owl (Athene noctua)
Long-eared Owl (Asio otus)
Common Kingfisher (Alcedo atthis)
Great Spotted Woodpecker (Dendrocopos major / Picoides major)
Black Woodpecker (Dryocopus martius)
Red-backed Shrike (Lanius collurio)
Great Grey Shrike (Lanius excubitor)
Jay (Garrulus glandarius)
Common Magpie (Pica pica)
Jackdaw (Coloeus monedula / Corvus monedula)
Rook (Corvus frugilegus)
Hooded Crow (Corvus cornix)
Raven (Corvus corax)
Great Tit (Parus major)
Blue Tit (Cyanistes caeruleus / Parus caeruleus)
Penduline Tit (Remiz pendulinus)
Bearded Reedling (Panurus biarmicus)
Crested Lark (Galerida cristata)
Common Skylark (Alauda arvensis)
Barn Swallow (Hirundo rustica)
Chiffchaff (Phylloscopus collybita)
Sedge Warbler (Acrocephalus schoenobaenus)
Blackcap (Sylvia atricapilla)
Common Starling (Sturnus vulgaris)
Song Thrush (Turdus philomelos)
Robin (Erithacus rubecula)
Black Redstart (Phoenicurus ochruros)
European Stonechat (Saxicola rubicola / Saxicola torquata)
House Sparrow (Passer domesticus)
Tree Sparrow (Passer montanus)
White Wagtail (Motacilla alba)
Chaffinch (Fringilla coelebs)
Greenfinch (Carduelis chloris / Chloris chloris)
Goldfinch (Carduelis carduelis)
Yellowhammer (Emberiza citrinella)
Reed Bunting (Emberiza schoeniclus)